Shotgun and straight wall rifle hunts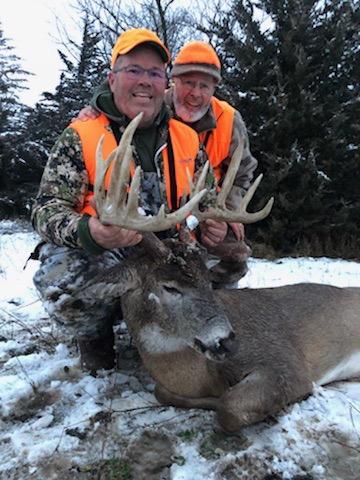 Experience An Unforgettable Iowa Whitetail Buck Hunt
If you're looking for some of the biggest whitetail buck Iowa has to offer then look no further! First shotgun season hunt is a 5-day adventure and second shotgun season is a 6-day hunt.
Bag some of the biggest whitetail deer west of the Mississippi River on one of our shotgun hunts. Iowa provides an ideal habitat for whitetail deer to reach optimal size and maturity. Since 1996, we've offered trophy hunting for deer and turkey. With our experience and knowledge of the area, you are sure to create memories that you won't soon forget. 
Shotgun or Rifle Hunting Packages - $4700.00 each
Shotgun and Straight Wall Rifle Seasons
Gun season 1 starts the first Saturday in December. Second shotgun season starts the 2nd Saturday in December each year.
Lodging and Meals Provided
PAST Iowa shotgun and rifle HUNTS